Things to do at the Park and in the Region
Attractions & Things To Do in the Region
Surrounded by six national parks (including the Blue Mountains World Heritage Area) and beautiful rolling landscapes, the Lithgow district is a mix of stunning wilderness, rural splendour and industrial heritage. It provides an extraordinary outdoor experience which will surprise and intrigue .
Lithgow Tourist Information Centre for National Parks & State Forests, Scenic Drives, Regional Drives and brochures for many other ideas.
For a general description and the history of Lithgow. See link below: http://en.wikipedia.org/wiki/Lithgow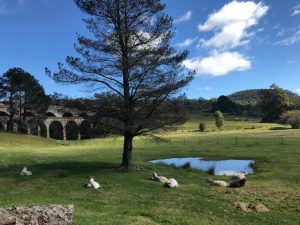 Things To Do at the Park
There are lots of fun outdoor activities for all the family whilst staying at the Lithgow Tourist and Van Park.
PARK BIRD WATCHING – How many different birds can you see on the park? Actively seek or just see how many you can count whilst sitting and relaxing. The record stands at 35 different birds over 3 days. Download Lithgow Tourist and Van Park Bird List or get a copy from Reception and start looking!
FARM TIME – between 4pm-6pm by arrangement via Reception, or just meet at the top gate.
Enjoy interactive farm activities on "Oakview" farm land. Wander down the track to the open paddock: help feed the ducks, search for eggs in the chook yard, count the number of goats and meet the horses (miniature pinto) and maybe even experience a led horse ride.
Enjoy a guided walk over the open paddocks to the emerging Gum Tree Pod and the Oak Tree Forest all against the back drop of historic stone and brick arched bridges:
First opened in 1869 the Bowenfels Rail Viaduct is a single track sandstone railway viaduct over Farmers Creek and is one of the oldest railway arch bridges in NSW.
In 1915 the double-track brick arch bridge was built. This viaduct has significance because it is the last of such works dominated by brick arch construction. With six 12.2 metre (40 ft) clear spans on tall brick piers, it is one of the largest brick arch structures on the NSW railway system.
How many arches are there in each of the bridges?
If you are lucky enough to have a train go by, count the number of train engines and then how carriages are being pulled. What type of train is it? What is it carrying and where is the train going?
STARGAZING – Search the night sky and see the moon, stars and constellations, planets and even the bright travelling light that is the International Space Station as it flies from West To East.